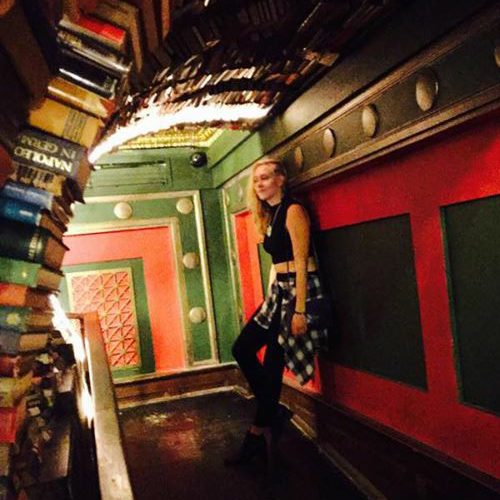 Letter from the Editor (Fall '15)
When I think of a live wire, I always remember a night at a restaurant, when the power went out. My friends and I were evacuated outside, and saw a downed telephone pole blocking the street, catching flame. The wires extending from it were sparking, bright light against the asphalt. I can still remember the sound of them popping and crackling.
This project sparked many things as well. It lit up a team of hard-working individuals, all excited about facilitating a place for art to thrive. It ignited the creation of seven new art pieces, inspired by seven incredibly diverse works of word. It caused us to reflect, and to redefine ourselves— to re-establish what LiveWire Journal is all about.
LiveWire seeks to create a space for a community of artists to grow together. It is interdisciplinary, collaborative, creative, and inclusive. It evolves as the culture around us evolves, reflecting the vast human experiences we all can relate to, and inspiring through the power of "someday" and "yet."
So, enjoy! Become electrified by the words on each page. Be enflamed by the beauty of each provocative visual masterpiece. Take a journey with us through a treacherous slide, try on some new pants, and watch a boy become an almost-man before your very eyes. Howl with us at the moon, run away in the moonlight, explore really knowing someone, and taste our homemade jam. We are so glad to have you on this whirlwind adventure, and hope your internal wiring comes away a-blazed.
Thank you to the amazing visual artists with whom we had the utmost privilege to work: Patrick Quirk, Jess Johnson, Sue Hwang, and Michelle Corvino. And thank you to the incredible writers, who took our suggestions with grace, and left it all out on the page: Celida Cambuston, Ellis Macaulay, Richard Levesque, Caitlin Orr, Hailey Woo, Max Villa, and our very own Amanda Walzer. Enormous thanks to the incredible LiveWire staff: Jessie Bullard, Thor Roe, Rebecca White, Allison Clifton, Berenice Galvez, Julia Moon for all your hard work, patience, and persistence. Thank you to Richard Levesque and Ryan Shiroma for all your help to us throughout this process. Thank you to Dan Willoughby and the Humanities Division for all your support, and the Printing Department for all the color. Thank you a million times over to the wonderful Zachary Kam and Jasmin Zuniga for jumping into building our website. A gigantic thanks and lots of coffee to our head of marketing, Whitney Dunkle. And of course, there's no way this would have happened without the one and only Amanda Walzer; we are all eternally grateful for your wisdom, guidance, and faith in us. We're Live!
Katelyn Hall
Editor-in-Chief
LiveWire Journal