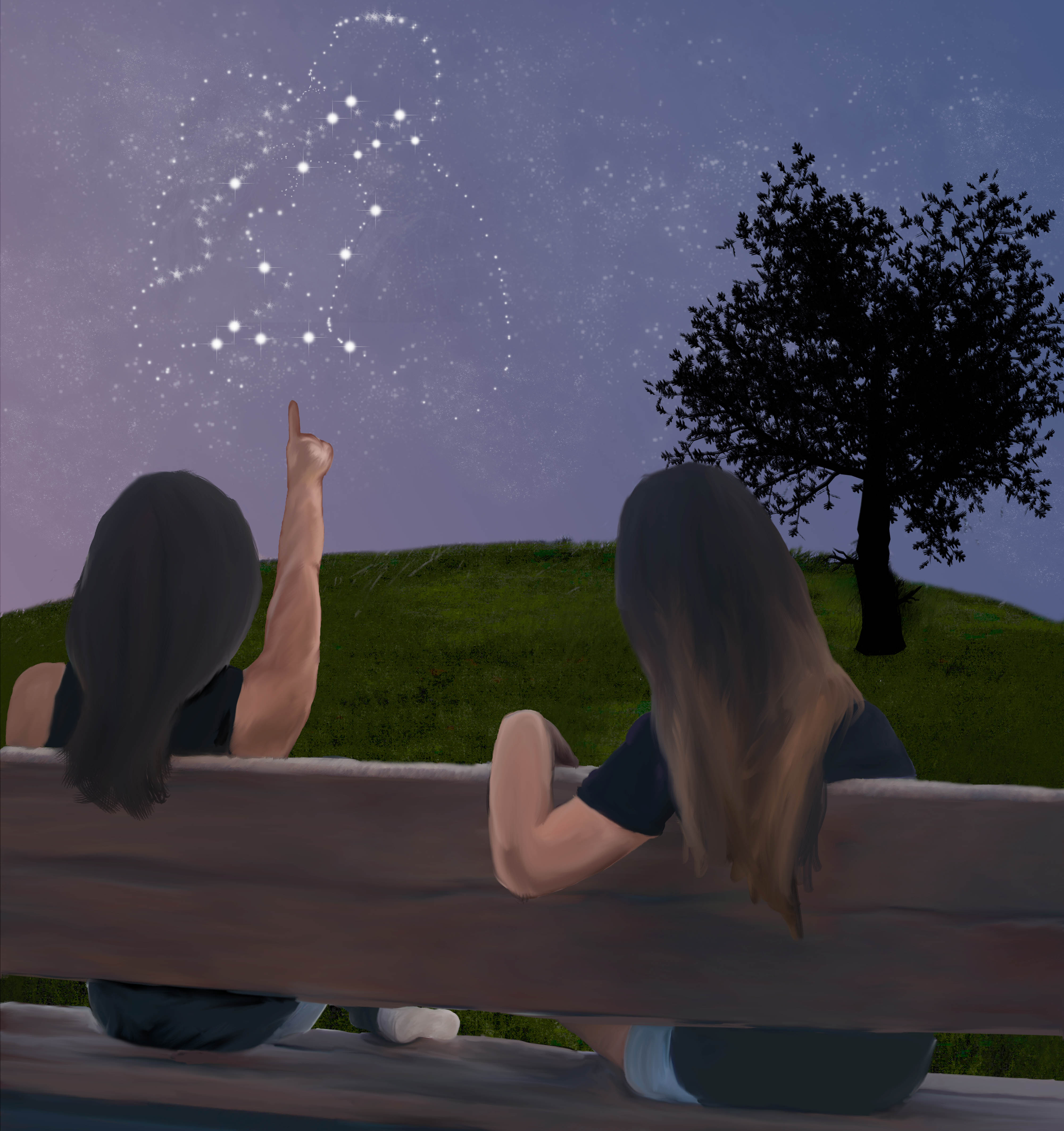 Ava used to rest her head on my shoulder
her short, feathery hair overlapping mine.
I'd lean back against her, too.
She would show me her real smile, crooked from her braces, and I'd hear
her terrible jokes that were not too cheesy. I knew her
stories, both petty and serious, and saw
every sketchbook insecurity.
The weight of her was as familiar as
the dreamy lilac color of my bedroom walls,
the slightly roughened texture of my skin,
the ups and downs of my own still-changing voice.
Every friendship has its limit
and I guess that 11:43 a.m. was ours.
The first time I hesitated to say what I really thought.
The first time we didn't smile when we met eyes.
Our disagreements weren't jokes anymore.
And so I wouldn't upset her, I kept quiet.
I didn't know if the silence or our bitter words were worse.
Ava stopped laying her head on my shoulder.
She found other people to help illustrate her story.
I'd sit on my own, head heavy, not used to its weight.
She'd preach her problems into the lining of someone else's jacket
while I pretended not to notice.
When they were sure that Ava could be on her own, independent, strong,
they pushed her away to test the theory,
and she'd fall right back to me again.
Each time, less confident, more volatile.
A best friend is someone you can return to no matter what you've done.
Maybe I liked that thought more than I liked Ava as time went on.
Maybe I was holding on to our nine-year-old selves
and the bragging rights of having a friend that long.
Maybe she was keeping me for the sentiment
and my brain, advice, unchanging kindness.
Maybe when she said she needed me again,
it was the only time I felt wanted.
So I held on to her.
Like she held onto me.
---
Writer: Isabel Nguyen is currently a sophomore at the Orange County School of the Arts for Creative Writing. She mainly enjoys writing poetry, but is dabbling in other genres of writing such as play writing and short story writing.
Artist: Cecilia Martinez is currently enrolled at Fullerton College as a graphic design major. Her minor is Kinesiology but has a passion for writing especially poetry. Writing has been her best friend for as long as she can remember. Up until high school is when she found out that she had a passion for digital art. Two different loves eventually became one.
---
More Articles